I've Made A Horrible Mistake
You know what's the worst place on the whole entire planet? The mall. Amazon can take ALLLL my money because I cannot see any reason to subject myself to that kind of torture ever again.
Just in case you don't already see the mall for what it is (armpit of humanity), let me tell you a little story.
Our school is having a daddy/daughter dance so I was taking my two sweet girls shopping for fancy dresses. I made the mistake of taking them to the mall around lunchtime on a Saturday. For some reason these girls think that there's nothing more glamorous than having lunch at the food court (the food. court. y'all).
It was crowded and loud and I was trying to keep up with two very excited girls. After our 5-star lunch, we stopped in Claire's and within three minutes, both girls found the *perfect* tiara. Next, we made our way to a department store where Bug found her dress. And it was on clearance! I was starting to feel like the mall gods were going to let me get away with coming to this horrible place without causing me to question all my life choices that led me to that point.
We made our way to another department store and found four dresses for Lu to try on. Somewhere between Claire's and the second department store, Lu started feeling bad. Headache, tummy ache, general yuckiness. I could look at her pitiful little face and see she was really struggling. She said she would rather just get it done than come back another day, so we decided to power through.
We found the dressing room and there was a line. We stood behind a mom with a young daughter who apparently didn't own a stitch of clothing because they were each holding about 126 items. Lu found a wall to sit against as I stood holding her four dresses and Bug bounced around asking me repeatedly just exactly how awesome I thought her dress was on a scale of 1 to 10? (Answer: 15.)
We waited. And waited. And waited. In one of the three dressing rooms, an eight-year-old was walking out of the dressing room to put on a fashion show for her dad. Dad was strangely particular about which top she wore with which pants and insisted that this girl try every combination of the many items she took in.
The second stall had feet under the door, but they could have been mannequin feet for all I know because nothing seemed to be happening in that one.
As I was observing this spectacle, the mom and daughter with 126 items each stormed off, possibly in search of another dressing room, which made us first in line. By this point, Lu has melted into a puddle on the floor and looking a little green. Also, did I mention that it was about 400 degrees in there? I'm sweating, Lu is dying and Bug is still bouncing. But, hey, we're first in line now!
As I edged into the dressing area, I saw the third stall. Two pairs of grownup feet, a stroller and a pair of toddler feet. And I could hear the conversation. I'll spare you the play-by-play, but basically mama and Nana were asking a three-year-old what she wanted to wear for a wedding and rehearsal dinner. They were telling her which top would go with which jeans and how cute she would be if she just picked THIS ONE RIGHT HERE, MADISON.
Y'all. I can't. Madison didn't give a rat's derriere about anything but the quart-size baggie of Goldfish she dumped and was eating off the floor. For goodness sake, people. Why, why, why are we asking opinions of babies? I can only remember one time that I even had my toddler TRY ON an article of clothing at a store, never mind setting up camp in a department store dressing room and asking her opinion
It's simple, people. You pick out the clothes, put them on the kid and if they don't fit, you take them back. Well, unless you're preparing to take the child beauty pageant route, in which case, I guess you're doing it right.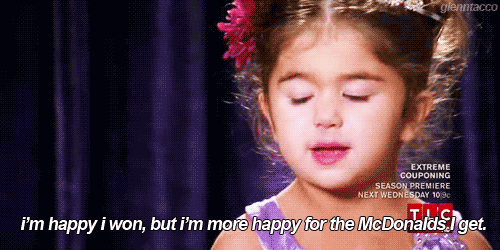 Finally the mannequin came out of the middle stall and we got to go in. Because I am a considerate human being, I helped Lu in and out of her dresses, we made a decision and we got out of there before Madison finished singing a jumbled up version of the ABCs while mama and Nana were still extolling the virtues of choosing sequins over glitter.
We made it out with everything we went in for and I only left part of my sanity behind. I have vowed to never go back to the mall on a Saturday, and to only go back in general if someone a.) gives me one billion dollars or b.) is trying to extort money from me via threats to reveal all the horrible things I mumbled under my breath about mama and Nana and the next Honey BooBoo.
Overheard at the Salon:The pattern on her dress gave me vertigo… or maybe it's just her face that makes me sick.